KR Pate by-election: Review of election preparation by observers
Mandya: Urmila Surendra Shukla, an election observer appointed from India's Election Commission, visited the district office on Wednesday to review the preparation for the by-election of the KR Pate constituency.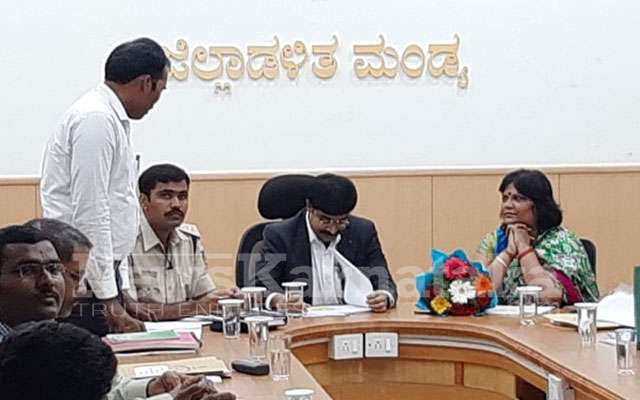 Speaking on the occasion, he said that the election of the Assistant Elections Officer, Sector Officers and various Illegal Prevention teams should be effective in carrying out a peaceful and impartial ballot process.
The bye-election of the KR Pate constituency should be done with great vigilance. Every election is also new. He said that the election commission should carry out the election work as per the guidelines of the Election Commission.
Speaking on the occasion, Mandya District Collector Dr MV Venkatesh said the KR Pate assembly constituency has a total of 2,08,937 voters, including 1,06,088 males, 1,02,844 females and 05 other voters. November 18 is the last day to file a nomination. Nominations review will be held on November 19. The counting of votes will take place on November 5 and on November 9, he said.
District level officers have been appointed to oversee various activities related to the election. Sector Officer, Traffic Inspection, Statutory Surveillance, Video Observation Team, Taluk Level Model Code of Conduct, Video Vision Team, etc. The election work is done by the authorities Yanirvahisuttiddare, he said.
During the event, the election management inspectors visited the Civilian Management Center, the Voter Helpline-1950 Management Center, the Complaints and Records Management Record, Electronic Media, and the MCMC Committee.
District Superintendent of Police K. Parusharama, District Panchayat Chief Operating Officer K. Yalakki Gowda, Superintendent of Police T. Yogesh and Nodel were present.
The Election Commission of India has appointed Urmila Surendra Shukla as an election observer in the by-election in the KR Pate constituency, said Dr MV Venkatesh, Mandya District Commissioner.
Viewers will remain in the KR Pate field until the election is over. Any complaint or information regarding the by-election can be made to the observer's telephone number: 9535977736.